The Southeastern Lactation Consultant Association Board of Directors proudly announces the creation of the Friend of SELCA award.
This award goes to a SELCA member OR a member of the community who is working to advance the IBCLC within Georgia and the Southeast through leadership, advocacy, professional development, and research. SELCA members may submit nominations for member colleagues, community advocates, or may self-nominate.
Criteria for the Friend of SELCA award:  Someone who demonstrates any or all of the following areas:
Leadership: A person who has established herself as a leader in the Lactation field by program development, policy change, or community impact, preferably at a grassroots/local level or state/regional level. Nominees collaborate within health care teams, write policies and procedures, consult as clinical expert, set practice standards, educate colleagues, promote membership in SELCA as our professional organization, or demonstrate professional leadership in another way.
Advocacy: Someone who has contributed to the lactation profession by promoting the credential of IBCLC, such as working toward licensure and/or reimbursement for the IBCLC. Award winners advocate for the IBCLC with legislators and policy makers at the local, state, or federal levels. Licensure and reimbursement help ensure family access to well qualified professional IBCLC services and make the IBCLC a viable career.  Other community, state, or regional programs to increase diversity within and access to IBCLCs will be considered, as well.
Scholarship: Someone who has contributed to the lactation profession by publishing peer-review articles, presenting at professional conferences, teaching lactation-related courses at the university level, and/ or contributing to the body of knowledge through breastfeeding research. This nominee is committed to elevating the standards of professional practice and sharing evidence-based clinical practices that best meet the needs of breastfeeding families.
In creating this award, we wish to acknowledge and appreciate our friends– those who partner with the IBCLC and SELCA to significantly impact the lactation profession for good, not only IBCLCs or SELCA members.  However, should the recipient be an IBCLC and SELCA/USLCA member, winning this award will grant them SELCA's nomination for the prestigious national honor, USLCA's Award of Excellence.
We at SELCA were proud to present the award at the conference on November 12,2016 to the inaugural recipient, Merrilee Aynes Gober, RN, B.S.N, JD.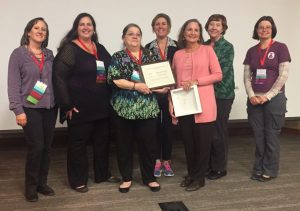 As a Registered Nurse and lawyer, Merrilee Gober witnessed firsthand the gaps in advocacy for mothers and babies, becoming an active member of Healthy Mothers, Healthy Babies Coalition of Georgia to help remedy the situation.  Recognizing the importance of the IBCLC to improving breastfeeding in the state, Merrilee worked tirelessly alongside Leah Aldridge and many community and legislative partners to achieve passage of the Georgia Lactation Consultant Practice Act, providing licensure of Georgia IBCLCs, and thus advocating for and promoting both our profession and credential.
Along with the award, the recipient was presented with a commissioned work from acclaimed local artist, Whitney Stansell.